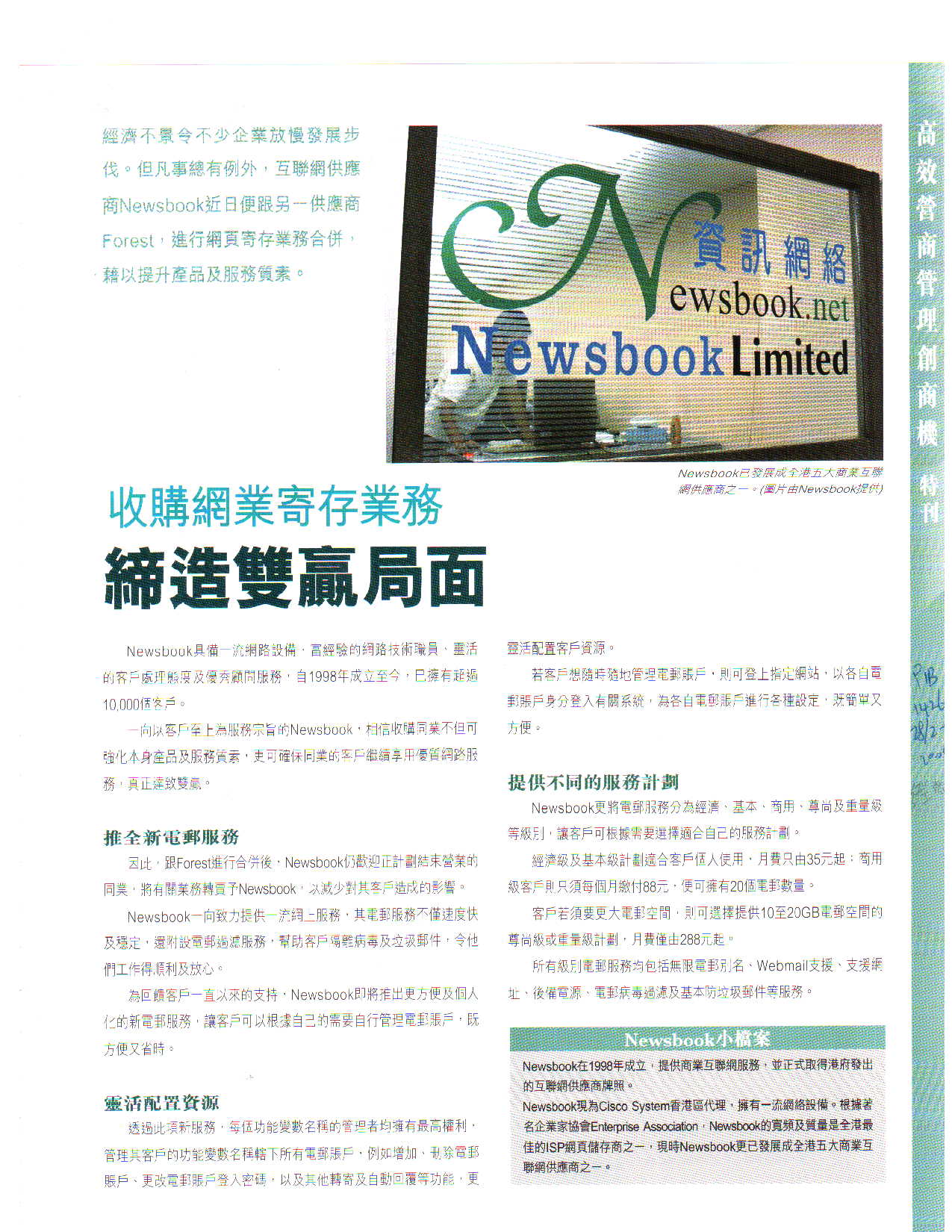 To celebrate the combination of services between Newsbook and forest, Newsbook has great energy and giving you great quality service.
After the combination of services with Newsbook and forest, service of web hosting has been upgrade, introduce many kinds of services, monthly fees HK$68, monthly fees HK$88, monthly fees HK$150, monthly fees HK$300, monthly fees HK$480 and monthly fees HK$680. Hosting space expands to 800MB-4500MB, as well as add 5 to 150 account of E-mail (POP3). All kinds of plans including Frontpage 98, Frontpage 2000 support, CGI Program Support, received or sent the e-mail, infinity e-mail name, back-up power supply, a visitor counter, Form To Mail and 30 days back guarantee services, etc., all without any set up costs! Convenient and flexible value-added it is the best choice for you!
Newsbook deeply believed that, the combination of services with forest company, not only could give convince to the company which would like to close or transfer, but also could give you a great confidence to using our service.
Newsbook has been business for 10 years from its set up in 1998. Customers has grown rapidly, it has been million customers by now. the quality of broadband of Newsbook is the best hosting provider in ISP web hosting business and the biggest internet service businessmen in Hong Kong. First-class network equipment, network technology and experienced staff, flexible customer attitude and the excellent consultancy services, which are Newsbook success.
Newsbook will to purchase Hong Kong web hosting industry, provide more users to network service. Newsbook unconditional guarantee to ensure that will reduce the impact of customers to a minimum. If your company intends to close down or sell to grant, please call or e-mail to negotiate.
Newsbook has been holding a "customer first" spirit of service, we believe that the acquisition of the web hosting industry, as well as gains users. On the one hand, with business can be transferred to a reliable and trustworthy company, on the other hand, users with the industry can continue to enjoy high-quality network services to achieve mutual benefit and win-win situation really!
If you have questions about the above, please call 27820197 or e-mail inquiries to info@newsbook.net.
If you want to know more details of Newsbook services, please visit Newsbook site; www.newsbook.net.