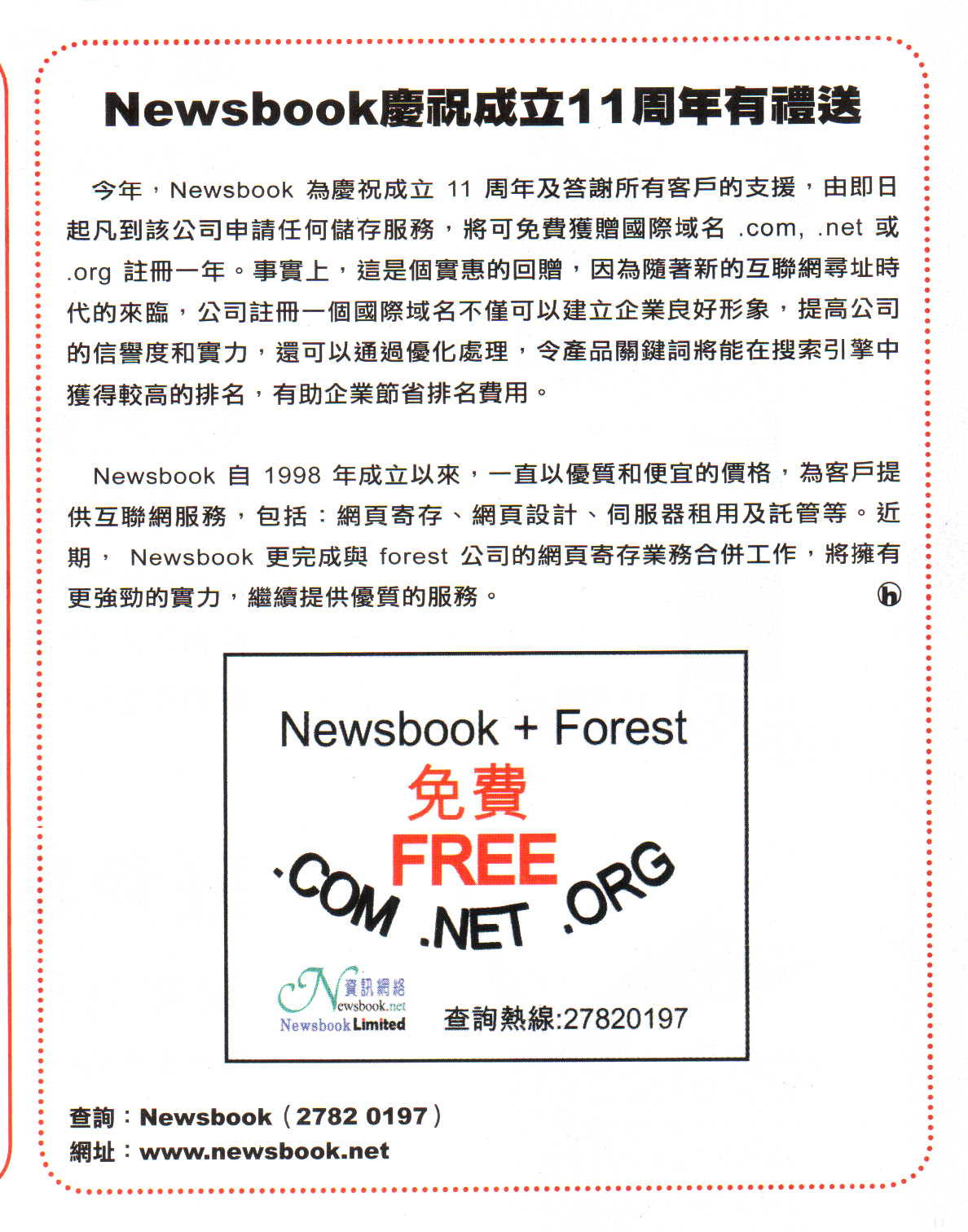 With 2009, the lunar new year of cow, Newsbook Limited celebrates the 11 anniversary. Newsbook established in 1998, providing perfect service of Internet, has been officially issued by the Government of the Hong Kong Internet Service Providers licenses, have first-class networking equipment. Since Newsbook establishment, has always provided the value price with low price, including web hosting, web design, server rental and hosting and so on. Many customers get the business with website, website is a symbol of company, Newsbook Gradually grow up with all your suggestion.
Newsbook celebrate achievement of many years' effort and thanks for customers support. From now on, customers apply for any web hosting services, you could use the international domain name .com, .net, or .org free in one year.
Newsbook service is stability, could be a great symbol for your customer and given customer confidence. By now, the quality of broadband of Newsbook is the best hosting provider in ISP web hosting business and the biggest internet service businessmen in Hong Kong. Newsbook business in many years has much experiment in this areas, giving customer great quality of our service, improving every area in our work. Recently, Newsbook also complete the combinative work with Forest Company in hosting service, we have more energy to give you more comfortable services.
Using web hosting of Newsbook, you also could have the international domain name .com, .net, or .org. That is a great discount for you. With the new internet search time becoming, company register a international domain name not only building a good symbol for your company, but also improve the energy and the credit-worthiness, as well as Can also be optimized, product Key words will be able to get higher search engine rankings, can help enterprises save a lot of the cost of price competed position. This will enable both large and small companies have equal opportunities!
Newsbook to celebrate the 11 anniversary this year, will be introduced gradually thanks to clients in various concessions, please pay close attention to the latest news on the Newsbook. Newsbook services in detail, please visit Newsbook site: www.newsbook.net, or call the company telephone 27820197 or e-mail inquiries to info@newsbook.net.