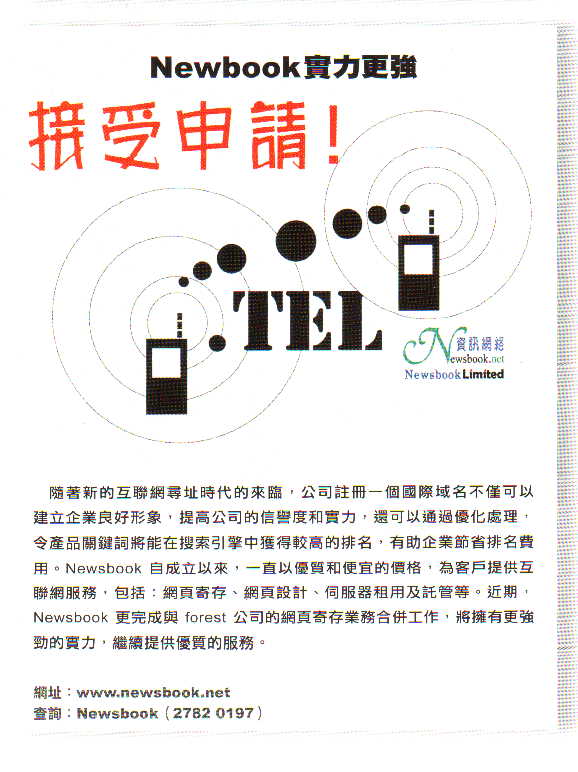 Newsbook new add [.tel] domain name service
[.tel] domain application open to public, two years fees HKD336
It' valuable, please applies for the domain name [.tel] at once!
.tel a new domain name expand, you just need to press it, you can contact with your customers and friends, search the data what you need.
With the technology improving, smart telephone is wildly use by customer, especially introduce the iphone recently. To meet the customers need, Newsbook new add application of [.tel] domain name. [.tel] can give customer a Visual experience with speed, you can save your address, E-mail, a lot of phone numbers, blog, and your position safely. You can sent out, save, update and manage all your communication information through the hand phone or computer any time, needn't building, manage and hosting a website.
The security model and flexible data-level of [.tel] is ideal for companies, [. tel] release their contact information and keywords online, expanding the range of their search engine, it's easy to guide customers to their needs of the search sector and even individuals contact information directly. You can also set up for internal use only, limiting the function of reading information, it's best to dealing strategy with partnerships, or to create and maintain employee information.
For an individual, .tel is easy to remember, easy to manage. Because of information Automatic Updates, it will never be outdated. No matter how frequent changes in the friends, work or their telephone numbers, . Tel can help customers get in touch and keep in touch. . tel is a security gateway, for some information you can set up unauthorized access. If you have private information, you do not want anyone to see that only authorized users can access it, please apply for a. Tel domain name, you will have the ability to turn it into private ownership.
[. tel] domain name has begun its public application procedure; registration fee HKD336, compared with the sunrise registration period and the period, the price is cheaper, more attractive. To be more business opportunities for your company, or individual more vulnerable to control and effective information support. Come to Newsbook and apply for a [. Tel] domain name!
Besides this above, Newsbook also provides a variety of domain name registration services, including international domain names (. Com,. Net,. Org,. Biz, name), the Hong Kong domain name com.hk,. Net.hk,. Org.hk,. edu.hk,. idv.hk, Chinese name. hk), other parts of the domain name, such as: company name Macau (. com.mo), Taiwan's domain name (. tw), the Italian domain name (. it), the Spanish domain name (. es ), the United Kingdom the company domain name (. co.uk) and so on, to meet your different needs. Also provides professional website storage, homepage design, server hosting and rental, domain name registration and e-mail services, a wide range of Internet services. For more details about the services Newsbook information, please visit Newsbook site: www.newsbook.net. Or call 2782 0197, e-mail to: info@newsbook.net. Query.