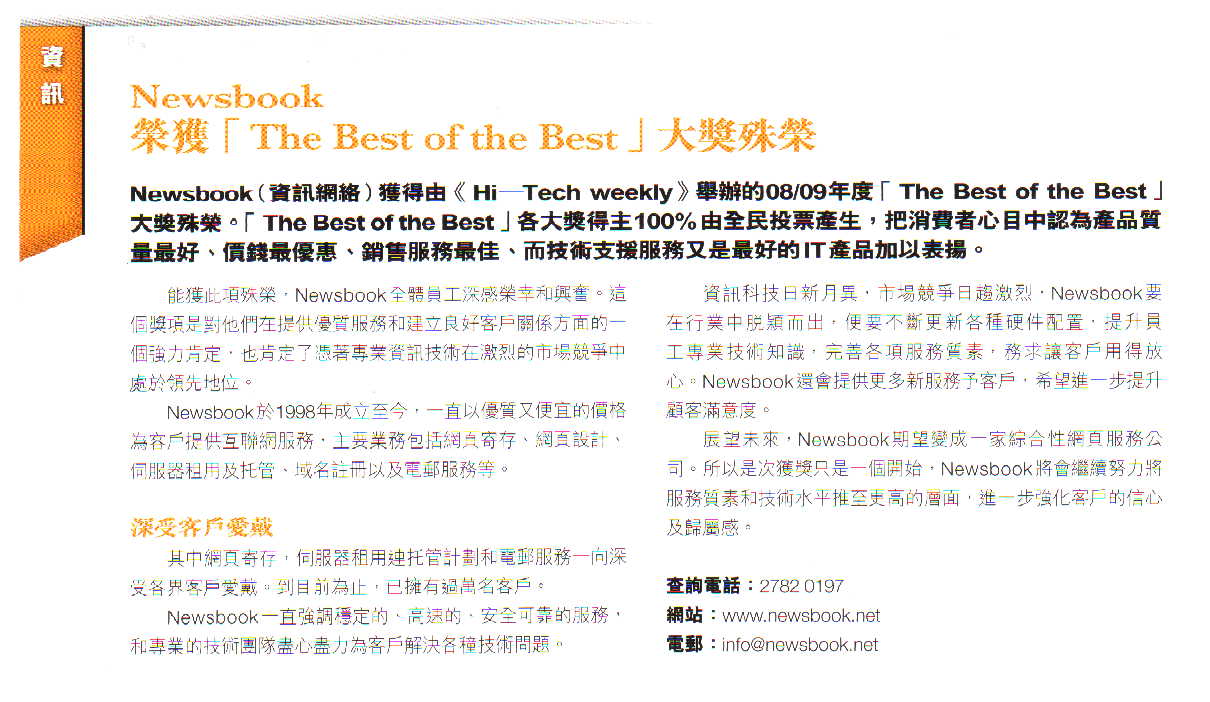 Newsbook won the award of 08/09 years of [Best of Best] which is hold by the <Hi- Tech weekly>. Winners of [The Best of Best] are 100% voted by citizen, who is the quality is the best, price is low, and service is great and the best of technical support services provider all believed by customers
All of our staffs feel exciting and proud when we won this award. This award is a great identity with our service and the place of keeping good communication with customers, also give us a confidence to set up in the top of information technical areas. Because we could win the awards from such a flat stage, it's very meaningful.
Since Newsbook established in 1998, always providing value Internet service with low price, mainly including web hosting, web design, server rental and hosting, domain name register and E-mail service. And web hosting and server rental and hosting are welcomed by all customers. By now, we have more than 10 thousands customers, its value to celebrate. Newsbook (Newsbook Limited) always gives you stability speed and stable service and professional technical service to solute your problems. Information technology improve every day, and the market competition has become increasingly irritable out, Newsbook stand out of this business, have to upgrade the equipment of hardware, improving the quality of staffs, do our best to improve the services, set customers' heart rest. We also provide more new service for you, and make you feel more comfortable.
To meet the future, we hope the Newsbook will become a comprehensive company. So this awards just the first step of it this time. We will do effort to upgrade our quality of service and technology, give more confidence to you.
More about the details of Newsbook, please visit website www.newsbook.net or phone 27820197 or E-mail to info@newsbook.net to inquire.