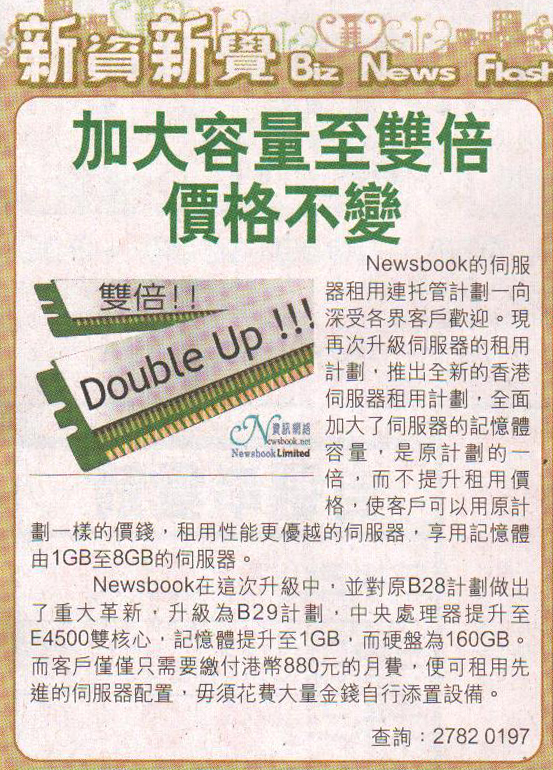 Newsbook Limited (Newsbook Limited) rented server hosting plans have always been well received by customers. Because of its high-quality server hardware configuration, holding in data centers which have first-class security and safety measures, and the network is fast, stable, coupled with the professional and technical Newsbook staff could help customers solve the technical problems in time, and always close to monitor the equipment of the server, the client needn't to worry about the trouble in equipment failure. Therefore, attract many customers in different areas.
Newsbook upgrade the server rental scheme once again, launched a new server rental plan in Hong Kong, comprehensive increased memory capacity, it's double of the original plan, rather than raise the rental prices, customers could use the better server in the same price of the original plan, enjoy the server of the memory from 1GB to 8GB! In this upgrade, Newsbook made a significant innovation in B28 of the original plan, upgrade to B29 plans, the CPU upgrade to E4500 dual-core, memory up to 1GB, and hard disk is 160GB. And customers only need to pay HK $880 monthly fee, Will be able to hire an advanced server configuration, needn't to spend a lot of money to acquire equipment. Each server will be rented for single client to use, all resources in the exclusive case, your server and the operational efficiency of the company's Web site will be great improved. Make your operation of work greater ease and comfort. Newsbook server is what you choose could not be missed.
Newsbook was established in 1998 and has been on high quality and cheap price to provide customers with Internet services, including web hosting, web design, server rental and hosting and so on. Corporate customers in an increasing number of cases, Newsbook expanding service levels and service quality, in order to meet customer needs better.
Newsbook services on detail, please visit the website Newsbook: www.newsbook.net, or call the company telephone 27820197 or e-mail to info@newsbook.net. Inquiries.